Qr Magazine
Frequently Asked Questions!
Qr marks an exciting new era for gay youth—a fresh new title unlike any other! We've been overwhelmed by the enthusiastic responses from the public regarding Qr. Below are some of the questions we've been asked so far...
What is Qr?
Qr is a monthly magazine by and for the modern young gay guy. Think of it as a meeting place for the eclectic and varied minds of gay youth throughout the United States or think of it as a well of ideas for what's important to young gay people as individuals. And, yes that includes sex, OBVIOUSLY.

Take a peek at our first issue!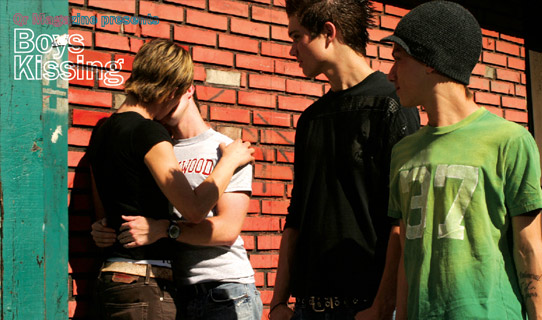 How can I subscribe?
Qr Magazine will be launching very soon! We can't say any more than that at the moment, because we've very superstitious. To be notified about our launch, please subscribe to our spam-free announcements.
Just the United States? What about Canada?
Okay, we're for Canadians too. Actually, Qr may have an American flavor to it, but will be the magazine for gay youth around the world. The first issue has contributors from Japan, Australia, England, South Africa, Canada, Brazil and Hoboken!
Who's involved with this magazine?
We're the young gay mafia... a staff of intelligent young gay men hoping to entertain, educate, inform and motivate. Well we've got Hollywood directors alongside boys from Indiana. Neurotic New Yorkers mixing with intellectuals from Virginia and expatriates in London. Even a few boys from Australia. Our photographers have an eye on the cute guys—gay or straight, but we won't tell. Most of our staff's from another young gay mag that shall remain nameless.
Nameless, huh? Didn't you guys work for XY?
Yes we did. We hope to take the enthusiasm and excitement that we invested into XY, along with lessons learned, and create a magazine which delivers on its promises, to the reader, to the subscriber, to the contributor and to the advertiser.
Are you competing with XY?
XY Magazine was a brilliant magazine that changed the playing field for what it means to be young and gay. There is plenty of space in the gay magazine market for a new gay title. We all grew up on XY, and wish it every success.
I hate XY. XY was stereotypical. XY rarely printed on time. I never got my subscription!
We hear you! Our frustration with the many failings of XY Magazine was one of the reasons we decided to start Qr. Specifically, you can expect us to represent all types of young gay guys. You can expect us to accurately represent what it means to be young and gay. You can expect us print every month, to deliver your subscription copies, and to stick around month after month, year after year. Oh, did I mention that our staff is actually young and actually gay?
How often will Qr come out?
It's a monthly mag, which means, it'll come out monthly, barring any unforseen terrorist/communist/fundamentalist attacks. Actually, no, our #1 aim is to always deliver on schedule. No excuses.
Isn't Qr just for dirty old men?
No, our old men must be thoroughly sanitized and bathed regularly thereafter.
Is your staff young and gay? Or are you just making that part up?
Well since you asked, we'll tell. Yes we're mostly in our early twenties, thoroughly professional, and quite savvy. We're so young that some of us haven't come out to our mothers yet, we're so gay that we all own feather boas and listen to the Rocky Horror Picture show soundtrack religiously.
Why should I contribute?
Have you ever read an article about gays and thought, "hmm I could do better!" Now's your chance.
I want to be a model! I want to send you my writing! I'm an amazing photographer!
Please visit our contributions page.
I sent you my photos or my writing and haven't heard back! What's up with that?
We have a very high-tech system which keeps track of all the great material that writers, photographers and models [like you!] have been sending us. If you've uploaded your work via the contributions page, there's no need to follow up with us. Our editorial staff generally reviews work as it comes in, and keeps it on file for use in future issues. We've been inundated with great material which we hope to feature in upcoming issues of Qr. In other words, don't call us, we'll call you!
I wish I could read a copy of Qr!
Hey, that's not a question! Qr will be on newsstands soon. Check out our online preview in the meantime! Or join our spam-free announcements list to be notified when Issue 1 is printed!
How do I unsubscribe from your email lists?
Visit our announcements list page to unsubscribe.
Like, are you guys on MySpace or what?
Yes, we have been on MySpace since 1994. We're BFF with Tom. Check out our profile at myspace/qrmagazine!
Qr Magazine—your guide to being young, gay and cool!
Other questions for us? Drop us an email at faq@qrmag.com. Please note that all writers, models and photographers must send us their work via the contribution form, and NOT via email.