Wake me up when something exciting happens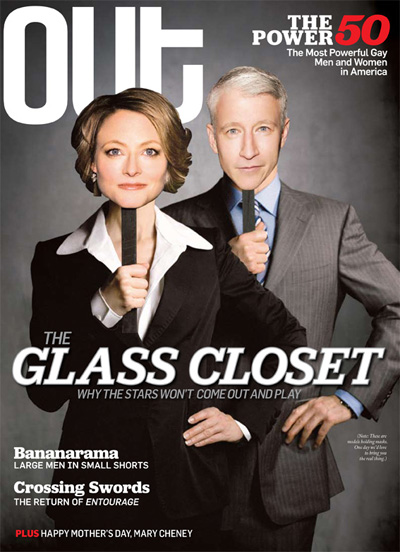 "Out" Magazine (notice the quotes) just came out with their "50 Most Powerful Gay Men and Women in America" issue. Yawn. Here's the list:
David Geffen
Anderson Cooper
Ellen DeGeneres
Tim Gill
Barney Frank
Rosie O'Donnell
The New York Times Gay Mafia: Richard Berke, Ben Brantley, Frank Bruni, Stuart Elliott, Adam Nagourney, Stefano Tonchi, and Eric Wilson
Marc Jacobs
Andrew Tobias
Brian Graden
Jann Wenner
Andrew Sullivan
Suze Orman
Joe Solmonese
Fred Hochberg
Christine Quinn
Perez Hilton
Scott Rudin
John Aravosis
Sheila Kuehl
James B. Stewart
Nick Denton
Tom Ford
Nate Berkus
Adam Moss

Jim Nelson
Lorri L. Jean
Adam Rose
Annie Leibovitz
Simon Halls and Stephen Huvane
Bryan Lourd
Bryan Singer
Jonathan Burnham
Brian Swardstrom
Robert Greenblatt
Chi Chi LaRue
Dan Mathews
Neil Meron and Craig Zadan
Ingrid Sischy
Marc Cherry
Carolyn Strauss
Irshad Manji
Jodie Foster
Christine Vachon
André Leon Talley
Hilary Rosen
Matthew Marks
Benny Medina
Mitchell Gold
David Kuhn
Bloggers. Photographers. Journalists. Closeted actors and newscasters.
Reeeeeeally?! Is this the best you can do? How booooooooring. You'll also note that "Out" chose two closeted celebs for their cover—Jodie Foster and Andersoon Cooper. Bold. What a statement.
Excuse us while the Qr Staff go back to sleep. We'll be up at 11am to make a real statement, to make a real difference, to continue convincing the world that we're more than a list of 50 nobodies.
——
p.s. what did you give up for Lent? Besides vaginas?
Tags: closeted celebrities, out magazine, qr